August 5th, 2012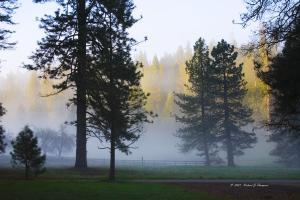 Have you ever looked at travel magazines, photography books or even the travel section of your favorite newspaper and were amazed by the spectacular scenic photographs? Doesnít it inspire you to pack your gear and get out there in the wilderness and take in all that beauty and to shoot your own photographs? It inspires me! My wife and I have traveled to many of Californiaís State Parks and several local National Parks looking for those spectacular scenes that someone else has photographed. But we canít seem to find them. I donít know if we were just in the wrong part of the parks or the photographs had been enhanced to a point where we wouldnít recognized the real location even if we were standing right in front of it. It is amazing how the new cameras and editing softwares can enhance images. You can clone out a tree, add some clouds, change the color of grass, lighten a dark shadow and so on and so on. I guess itís a good thing my wife and I like to hike. We will keep searching for those spectacular sceneries and photograph them as Mother Nature presents herself with as little enhancement as possible.

My wife, Carolyn, and I are going to Pinnacles National Monument in a couple of weeks to hike and capture images. This will be our first trip to Pinnacles, which is just below Salinas, California off highway 101. We are still searching for those scenic images.

August 5th, 2012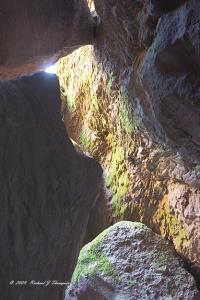 In my last blog, I mentioned that Carolyn and I were going to travel to Pinnacles National Monument to hike and capture images. I also mentioned that it was hard to find scenic images, the images you see in publication, on our hiking trips. This trip to Pinnacles National Monument was no different. I took many shots with my camera even though I know the images would be subpar. Itís a good thing that Carolyn and I are hikers, because the over six miles and 1600 feet elevation gain hike we took was very challenging and, in some places, very risky, which made the trip worthwhile. Pinnacles National Monument is primarily a hiking area, but there are challenging rocks for climbers too. One of the attractions in Pinnacles National Monument is a cave that is home to many, many bats. The image above was taken from inside the cave without a flash. The cave is open to hikers only a few weeks a year when the bats migrate to another area. We were there during the last week of October and did not see a single bat. If I had to rate Pinnacles National Monument on a scale of 10, I would rate the scenery a five and the hiking challenge an eight or nine. I canít rate the climbing challenge because I am not a climber. Now we have to plan our next hiking trip for this winter and I hope we pick a place that has beautiful scenery.